1. What is Cable internet and FTTN internet?
Cable internet refers to the high speed internet provided by CIK using TV cable. Cable internet is using 2.0 or 3.0 Cable modem.
FTTN internet is Fiber To The Neighbourhood, from Neighbourhood to home is using a copper loop. FTTN internet is using ADSL or VDSL modem.
2. Can CIK guarantee the maximum speed?
Because of the nature of internet, the maximum speed available depends on the line condition, distance to Central Office, Time of Day, Test method, routers, and many other factors, we can not guarantee the maximum speed all the time, however we will try our best to provide the fastest speed as possible under your profile from our network to the modem at your home.
3. Does CIK block any port?
No. we do not block any port.
4. Does CIK slow down traffic in peak hour?
Current CIK is not implementing any of traffic management in west coast including BC, Alberta, Manitoba and Saskatchewan and Ontario Thunder bay and Sault Ste Marie area. In other part of network in Ontario and Quebec, we are restricting Bit Torrent in peak hour from 6:45pm to 10:45pm.
5. How do I test my Internet speed?
1.To get the accurate speed, Please connect your computer to the modem directly with wire, (Disable the Wireless network Connection on pc and power off the Wireless router), Close other software.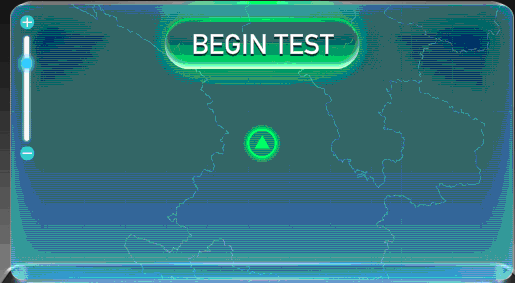 3.Click "BEGIN TEST"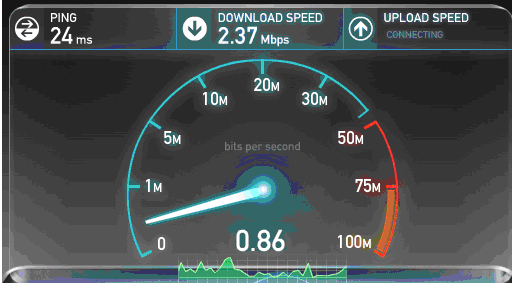 4.It will show the PING, Download SPEED, and UPLOAD SPEED, Ping mean the network latency, then lower the better. Generally the Ping should be below 50ms
5.Please test for as more times, and take the average value. We recommend you test the speed in different time frames (Morning, afternoon, evening). The evening speed may fluctuate, it can not represent the real speed.
6. What should I do if my internet not working?
If you are new customer and today is your activation day, please keep modem connected and wait till midnight of today before reporting to our 7x 24 Tech Support.
If your service was up and running and stops working today, please power off/on your modem and router to see if can internet backs or not. You might wait for half day before contacting our 7 x 24 support via phone, online chat or Email. You can also login to my CIK to open a ticket if you can access internet from another place.
Please collect the following information before you contact our tech support
When did your internet stop working?
Did you connect your computer to modem directly and reboot modem and see if working?
If you are using windows computer, please click start – run – cmd – ipconfig /all
Is there anything you notice outside your home or in-site your home such as a technician did something outside, power failure, decoration, install new service etc)
What are status of lights on your modem?
What are the S/N and MAC of your modem?
What is your contact cell phone and best available time.
We will try to get issue fixed or have solution around 48 hours. Please always obtain a trouble ticket number if your issue is not fixed right away when you are calling to our tech support.
7. What should I do if my internet speed is very slow?
First please use the correct way to test your speed first as following:
Connect a computer to the modem directly using wired cable, please power off the modem and power it on;
Disable wireless on your computer and disable all download/upload software;
Open https://www.speedtest.net and select the close server to your city.
Please test in the morning, afternoon and evening, if all speed slow, please send the pictures to us and obtain a trouble ticket number.
8. What should I do if my internet not stable?
Please try to connect one computer using wired cable to the modem and see if it is stable. If still not stable, please contact our tech support to report the issue.
9. Can I get static IP?
If you are using Cable internet, your IP would not change for a long time till you change another router or the cable company makes network change.
If you are using DSL internet, it is dynamic IP but you can request a static IP with a monthly charge 10$ per month.
10. Does my internet support VPN?
Our network and modems all supports VPN pass through
11. What is my CIK WI-FI password?
If you are using Wi-Fi modem/router from CIK, the SSID would be CIKxxxx (4 digits), and default password is the MAC address of your modem. Both SSID and password are printed outside the paper box and on the modem/Router.
12. What should I do if my CIK Wi-Fi signal weak?
First please move your computer or WI-FI devices such as PAD or cell phone to be closer to the CIK Wi-Fi device such as HG-A800 or SVG6000RW to see if signal would be better.
If it is due to distance issue, you might think about buying either power line modems or Wireless Repeater or extender if you could not relocate the signal.
13. What should I do if I can not access some web sites?
Here are common steps for troubleshooting:
Try to connect computer directly to modem to see if working or not (you need to reboot the modem when doing this). If yes, it must be your router issue.
Try to reboot your computer and router to see if working or not;
Try other computers or cellphone wifi to see if works or not;
Some of web sites have restriction for IP access, if you believe Canada IPs should be allowed, you can open www.whatismyip.com and send your IP address to the web site administrator to allow. All of CIK IPs are allocated by ARIN to be legally used in Canada.
If Modem connected to Computer is working fine, but when connected to CIK wireless phone box SVG6000 or HG-A800 Modem has this issue, please contact technical support.
14. How do I access my CIK modem?
For HG-A800, you can open http://192.168.12.1, default username is User with password cikvoip.
For Technicolor Cable modems such as DCM425, DCM475, DCM476, you can open http://192.168.100.1 no username &password required.
For Motorola Cable modem such as SB5101, SB5102, SB6141, you can open http://192.168.100.1 no username &password required.
For Corship CCM2000A, you can open http://192.168.1.254 default username is admin with password cikvoip
15. How do I use my ciktel.net email?
We provide you two different ways to use your ciktel.net email.
Via POP You can send &receive at your home via your outlook, however if you bring your laptop outside your home, you can receive only from your outlook but can not send out.
Web access, you can use firefox browser to read and send from web page from anywhere. (Only Firefox allowed at this time).
For detailed instruction of how to set up POP email client and access web email, please login my CIK account to check detailed instruction.
16. How do I check my internet usage?
For Cable internet, currently we do not provide tool for monitor internet usage. For FTTN internet, you can login my CIK account to check daily usage.
17. Does CIK charge Dry Loop fee?
No. All of CIK internet already included dry loop charge so there is no extra charge.
18. How to install my modem - Cable Modem
19. How to install my modem - FiberLite Modem
20. The lights on the modem are fine, but no internet on pc.
1.If you did not make any change, and change the connection behind the modem, probably the device behind the modem cannot get the IP from the Modem. Please power-cycle the modem for 1-3 times, at least 5 Mins a time, it will resolve most issue. Similar cause with No.1 question, you need reboot so the server can recognize the device.
2.If only you can not connect your wifi, please set up your wifi device. If it's your own wifi device, we cannot help on operation, please follow the instruction manual or call router support.
3.If your pc is connected to the router with wire, but get no internet. Please connect your pc to the modem directly (disable wifi), power-cycle modem for at least 5 mins. Still cannot get the internet, then please check the IP address on the pc: Press "win+R" to popup the "run", type "cmd" then Enter. (If it's Win 7 OS, Click "Start", type the "cmd" in the bottom search bar then press "Enter" )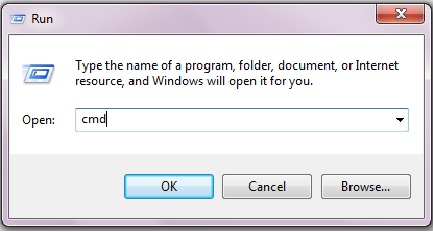 4.Type "ipconfig" in the command(black windows)
Notice your "Local area connection" IP address
"169.254.***", please reboot your modem for at least 5 mins, if it's still 169 after turning on again, call CIK support
"10.***.***.***", modem need activation, please call CIK tech support
"192.168.***.***" pc is still connected to router, please confirm the connection then reboot pc
21. Why every time I open a page, it's redirected to the Rogers Page
First confirm that you are using CIK modem, Probably the modem is not activated. Please confirm the MAC address and Serial Number, keep modem-pc, and call CIK tech support.
22. Why the on-site tech did not install the internet at designated location?
We put your "designated location" in the order, but they will check and judge whether it can be installed at that point, they will find out the best point to install. If you have any special request, make sure communicate with the tech. After the tech left, $65 will be charged if you need tech visit again to do adjustment
23. Why my internet is unstable?
1. Please try wired connection (modem-pc directly) and check, if it's stable with wired connection, it's not CIK issue, please check your Wifi router or Wifi signal (ex. If the wifi strength is too low; try changing the WIFI channel between 1, 6, 11; put the router away from other electronic appliance; distance or wall affect the strength). If with direct wired connection it's still unstable, please notice the lights pattern on the modem. If the US (or Send, Cable Link) is off, it means something wrong with sync
2. Remove the coaxial cable from the modem and Cable outlet, derust and clear the cable cap and pin.
3. Check if there is any splitter between the modem and splitter, in other floor, basement, please remove the splitter and try.
4. Do not loop the cable
5. Try other cable outlet in your house
6. Call CIK tech support, check the signal
24. What is No-Sync problem?
If your modem is connected properly, but US (Send or Cable Link) is off, it means No-Sync
1. If you moved the modem, please connect the modem back.
2. Reconnect the coaxial cable and power-cycle the modem, if the coaxial is rusty please clear it.
3. If you have Cable TV service and it's working fine, please check the if there is splitter in your house, especially in the basement, if there is, remove it and try.
4. Any Rogers tech showed around or any construction outside?
5. Try connecting your modem in different cable outlet with no splitter, check the modem lights.
6. Check the power adaptor, make sure not mix with other devices.
25. How to change the WIFI password in cable wireless modem(DCW775)?
1. Connect your pc to the modem with Wireless or Wire
2. Type http://192.168.0.1
3. Username: admin Password: cikvoip

Login and click on wireless,and select Primary Network.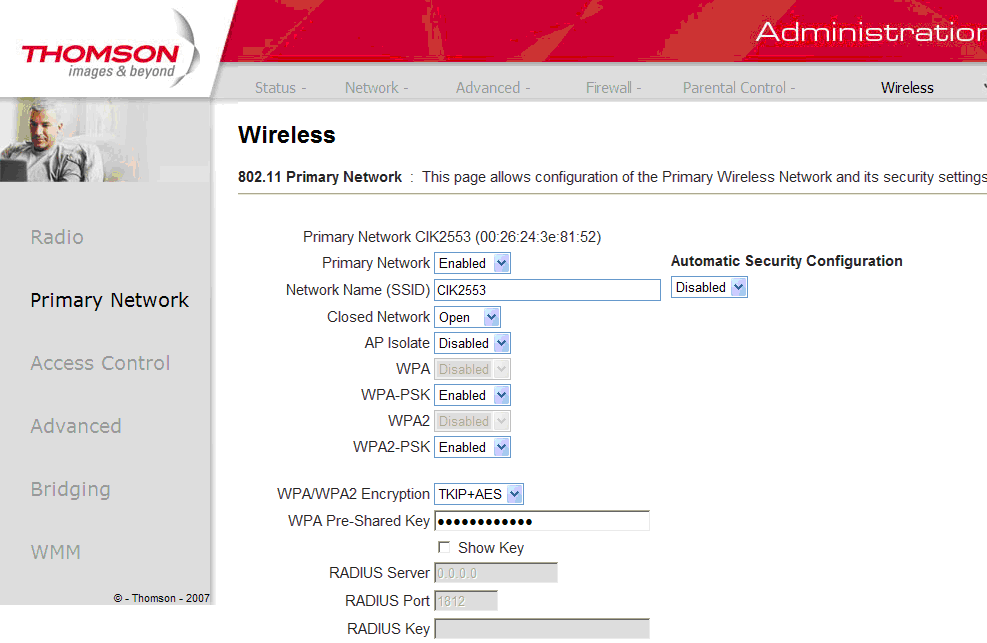 Remove the Black Mask in the WPA pre-shared KEY
If you need to change the WIFI name, please change the SSID blank CIK**** to other name.
Click the "Apply" at bottom when you finish.
26. Modem lights pattern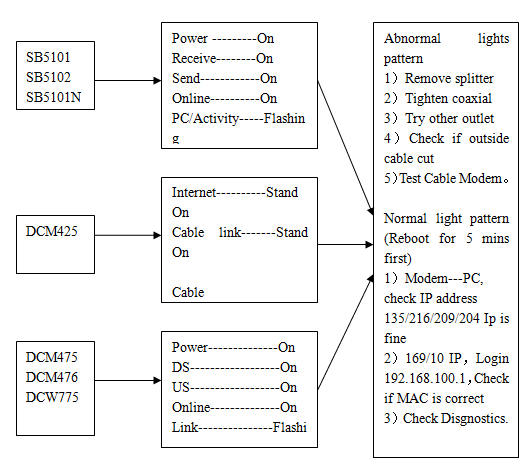 DCM 425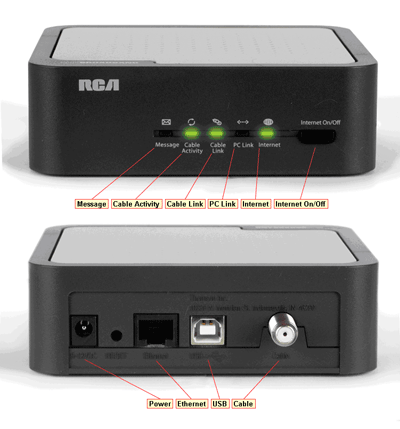 DCM 475/476
DCW775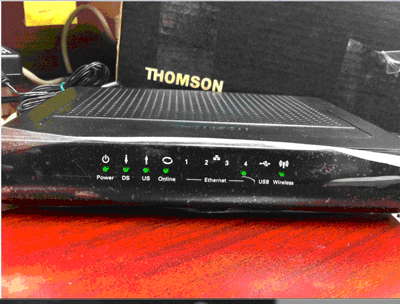 Motrala Sb5101
27. How to Set Up Wi-Fi ?
If you are using Wi-Fi modem/router from CIK, the SSID would be CIKxxxx (4 digits), and default password is the MAC address of your modem. Both SSID and password are printed outside the paper box and on the modem/Router.