1. Is CIK High Speed Internet usage truly unlimited?
CIK may provide high speed internet plans with limited or unlimited usage for downloading and uploading.
Unlimited usage plans are based on residential customer normal usage, if abnormal usage or malicious activities detected which endangers CIK network, CIK may suspend customer's service or limit the speed without notice in advance.
CIK unlimited internet downloading policy is also governed and affected by CRTC rules and decision, government laws, and provider's policy which if any change, CIK will notice customers by email 30 days in advance at least.
2. Does CIK provide high speed internet in my area?
Current CIK provides high speed internet in Ontario, Quebec, British Columbia, Alberta, Saskatchewan, and Manitoba. We will expand to New Brunswick, Nova Scotia and Prince Edward Island soon.
3. Does CIK slow down my speed in peak hour?
Generally internet speed is slower than usual in peak hour (6:00pm to 00:00am). As we are renting last mile from local Cableco and Telco and sharing that portion of network, so if the cableco or Telco deploys some kind of internet traffic management technology, our customers in that area will be affected the same as the Cableco and Telco end users.
4. Does CIK block any web site or service?
CIK doesn't not block any of outgoing ports, web sites or services. For access to CIK network from outside, CIK may block certain ports from time to time based for network security reason.
5. What network changes CIK made from 12/01/2015?
Effective from 12/1/2015, CIK is changing our network management policy from unmanaged network to managed network, and all of the previous restriction effective from 3/1/2015 for heavy usage customers are removed, instead, we deployed new system to monitor all the traffic in and out of our network. We also restricted some P2P applications such as Bit Torrent and file transfer during peak hours from 6:00pm to 12:00am based on different speed tiers. Based on our research and analysis, we also provided a guideline for customers to select right speed profile based on their usage. By this way, we believe it will make all of our customers happy with our speed and network when they select the right speed plans.
6. How do I select different speed based on my Internet usage?
Based on our research, we can provide some general guideline for customers to select speed however due to complexity of each customer home network status, we cannot tell you precisely. In generally speaking, we always recommend customers selecting higher speed as much as possible if within budget to get the best performance.
Generally you can select your speed based on the number of people using internet in the same household. Below is the table for speed tier linked with family size.
| | Name | Speed range | Family size |
| --- | --- | --- | --- |
| Tier 1 | Lite | 1-9M | 1 person with light usage |
| Tier 2 | Basic | 10M-19M | 1 person with 1 IP TV video |
| Tier 3 | Express | 20M-49M | 2 people normal usage |
| Tier 4 | Express Plus | 50M-99M | 3-4 people with normal usage |
| Tier 5 | Ultra | >99M | 3-4 people with heavy usage |
Depending on each customer's home network situation, you may have more than 5 people in a household with a 15M speed or you may have just 1 person, you may feel slow.
Another way to measure the speed required for residential is based on peak hour usage as most of residential customers only use internet at night between 6:00pm to 12:00am.
| | Name | speed range | monthly peak hour usage (6:00pm-12:00am) |
| --- | --- | --- | --- |
| Tier 1 | Lite | 1-9M | less than 60GB |
| Tier 2 | Basic | 10M-19M | less than 90GB |
| Tier 3 | Express | 20M-49M | less than 120GB |
| Tier 4 | Express Plus | 50M-99M | less than 150GB |
| Tier 5 | Ultra | >99M | >150GB |
Also it doesn't mean exactly when you have the usage over the recommended usage above for that speed tier you would feel slow as it is just based on our statistic analysis to get the best experience.
7. How do I select the speed under promotion plan?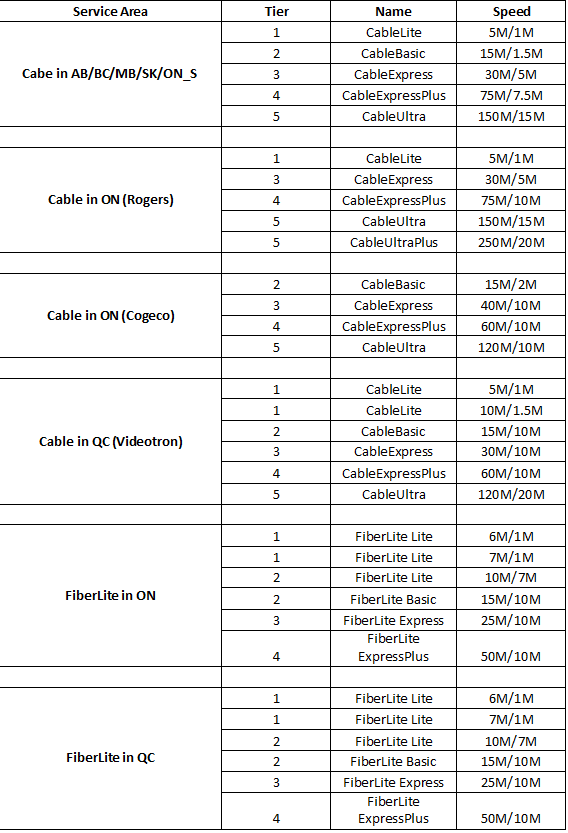 8. Do I have to upgrade my plan based on CIK recommendation above?
Not necessary. Generally unless you have some issue, you don't need to upgrade your speed.
9. If I have slow speed or unstable issue, do I have to upgrade my plan?
There are many reasons for you to feel speed slow or unstable, it could be the usage is too heavy comparing what your speed can support, or hardware not able to handle or Wi-Fi is not strong enough or distorted. If we decide it is caused by the hardware, we would replace the hardware free of charge; if we decide it is due to heavy usage, then you need to upgrade to higher speed to get better experience.
10. Will I get new hardware when I upgrade my speed?
When you are upgrading your speed, you may get a hardware upgrading as well or you my still use current hardware based on if it can handle the new speed or not.
11. When do I need to upgrade hardware?
If we decide your slow speed/unstable issue is caused by hardware as your usage is within the recommended range, we will do a free hardware upgrading for you.
12. Do I need to return old hardware when I do speed or hardware upgrading?
Usually when you are requesting a speed or hardware upgrading, our customer service rep will notice you if the old devices need to be returned or not. If need to be returned, a return label will be attached in the shipment to you.
13. How much extra do I need to pay when I upgrade my speed?
Usually you just need to add $10/m to upgrade to the next speed level.
14. If I am not a customer living in Ontario, can I have use this upgrading program?
Currently we are upgrading the speed for all Internet customers in Ontario, we will decide the timeframe to upgrade customers in other Provinces. However, if you are living in other provinces, and if you have any technical issue due to hardware, you can also contact us to see if any hardware upgrading is available for you.
15. Can CIK guarantee the internet speed?
Because the complexity of customer sites, the internet speed is decided by the line condition, distance to the CO, network congestion and time of the day etc, the maximum internet download and upload speed is based on best effort, we will try our best to provide the faster speed under your plan profile but there is no guarantee of maximum speed.
16. Can I use my own modem?
For DSL and FTTN service, you can use your own modem when place the order and full processing fee will be charged.
For Cable internet, we recommend you using our modem to avoid activation delay and support issue. Please consult with our Sales about how to get free or discounted modem.
If you wish to use own modem, please make sure 1) consult with us first to see if this modem is approved in the list; 2) it is current activated with your current internet provider 3) please provide exactly Serial number and MAC on your modem, you might login into the modem to check the SN and MAC. Your service activation might be delayed due to wrong modem or bad modem.
17. How do I select my internet speed?
Depending area, currently CIK provides 5 different tier of speed as:
Basic High Speed – ideally for customers just browsing web pages and using for VoIP, not suitable for online video/movie/gaming.
High Speed – ideally for one computer browsing internet with online video/movie/gaming.
Express High Speed – ideally for more than 1 computer browsing internet with online video/movie/gaming but not heavy users.
Express Plus High Speed - ideally for more than 1 computer browsing internet with online video/movie/gaming with heavy users
Ultimate High speed - ideally for very heavy users with more than 1 computer browsing internet with online video/movie/gaming and speed sensitive.
18. How long do I need to notice CIK in advance before activating the service?
Normally we would need 7-10 days notice in advance prior to your activation date from your order payment made.
19. Can sales confirm the activation date when order placed?
When you place order with us, you would be asked 3 different dates for activation. Once the activation date is confirmed, you will be noticed by email and phone in advance.
20. When would I receive my equipment?
Once your order activation date is confirmed, we will ship your package from our closest shipping centre and you will be noticed by email with a tracking number. Normally you will receive the package the 2nd day.
21. What are included in the package?
In the package we shipped to you, it would include 1) printed order with plan description, and terms 2) Equipment 3) Quick setup guide 4) An activation FAQ sheet with hot line number for service activation support (for West coast only)
22. Is the technician coming to visit my home when activate my CIK internet service?
For FTTN/DSL internet, one of termors will be sent to test signal and help you set up internet at home to make sure the internet is working.
For Cable internet, depending on your home address cable condition, a termor might be sent to test signal or might not be sent to access your home. If visit required, you will be noticed by phone and email in advance and the tech is only responsible for testing signal and will not connect modem for you.
23. Why do we recommend you to keep one month service deposit?
Service deposit is an option you might choose. It is to prevent service disconnection due to non-payment caused by unexpected reasons. To restore service after disconnection, we would require 65$ reactivation fee and 5 – 7 business days at least. However the service deposit is not mandatory, so you can decide based on your payment arrangement.
24. Does CIK provide email addresses for me?
Yes. For all of CIK internet customers, we will provide up to 3 ciktel.net email addresses, you can manage your email accounts online from www.ciktel.com my CIK account.