1. Can I keep my existing number?
Yes. CIK can transfer your phone numbers from your current phone company upon your authorization. We can transfer from all cell phone, landline and VoIP phone companies within Canada in all of the majority cities. Our phone network covers all Ontario, Quebec, British Colombia, Albert, Saskatchewan and Manitoba.
2. Which cities are free in Canada and is it unlimited?
CIK phone includes unlimited calls to whole Canada except Northern Territory 1-867. CIK doesn't limited the domestic calls but CIK keeps the right of suspending or disconnecting the service if abnormal usage detected or endanger our network.
3. Is my call truly unlimited for my unlimited long distance calling plan?
For unlimited international calling plans, unless specified by the plan, by default it is based normal and fair usage with a maximum 5000 min and CIK keeps the right of suspending or disconnecting the service if abnormal usage detected or it is endangering our network.
4. What features does my phone have?
CIK home phone supports the following features:
Caller number display
Caller Name display
Enhanced Voice mail
Call forwarding
Call waiting
Call transfer
Anonymous call blocking
Outgoing Caller ID blocking
No disturb call
Black list up to 10 numbers
5. Does my CIK home phone support fax?
CIK home phone system using T.38 fax protocol through the whole network, however Fax over IP has the following limitation:
We need to use HT-502 or SPA2102 to support T.38 fax.
Fax over IP is not reliable as PSTN phone and depends on the fax machines as well.
Fax to oversea international numbers is not guaranteed to be working.
6. Does my CIK home phone support alarm system?
Yes. Our IP phone service does support different kind of Alarm system. However we would need specific phone ATA. Also some physical wiring needs to be changed either by alarm company or qualified technician from 3rd party. If you have alarm system to be connected to CIK phone system, please make sure you notice us when you sign up.
7. Does my CIK home phone support buzz code?
Yes. CIK home phone supports buzz code which is linked to CIK phone number. You can provide CIK phone number to Apartment Administrator to program for you.
8. Will my phone number showing on 411 or yellow page?
CIK phone numbers will not be displayed on 411 or yellow page by default. If you want to display your phone number on 411 or yellowpage, please let us know and certain charge might be applied.
9. Does my phone support 911?
911 service is a mandatory service required by CRTC, all VoIP companies are required to provide 911 service in Canada. CIK is a registered in CRTC from 2005 and our E911 has been reviewed and compliance with CRTC regulation since 2005. You need to make sure the service address you provided is always updated. However due to our Home phone service is based on internet, so if your internet is not working, our E911 service is not working, We recommend always keeping a cell phone as a backup for 911 service.
10. Can I call 211, 311 or 411?
Because 211 and 311 are local service number, so we do not support. If you wish to make 211 or 311 calls, you need to search the local phone number corresponding to the 211 or 311 service number.
We do not support 411 directory assistant.
11. Can I call Toll Free 800 numbers?
Yes. You call Toll free numbers free of charge. However some of toll Free numbers are not allowed from some calling area, so you might check if you can call that number from your local phone.
12. Can my friend call me as a local call from China?
Yes. We provide a 400 number for your friends to call you from China. You will be assigned a 5 digit numbers for your friends to enter after called the 400 number in China. Your friends will be billed as local call in China and you will be billed 3 cents per min.
13. How do I make long distance call from my cell phone?
CIK provides a service called Cell phone long distance, you might bundle it with your home phone service or you can register separated from here.
14. Can I use CIK home phone to dial long distance via other companies?
To use third party long distance, there are several options:
Dial 011 or 1, all of the calls are made via CIK network only
Dial an access number first, then enter PIN then followed by long distance number – CIK home phone support
Dial 10-10-xxx code – CIK doesn't support this.
15. Can CIK block my long distance?
Yes. You might require CIK to block your long distance.
16. How do I check my call records?
You can login My CIK from www.ciktel.com to check incoming and outgoing call details.
17. Can I have a HK phone number?
Currently we do not provide Hong kong number.
18. Can I use my VOIP phone elsewhere, like China? Is there any extra charge?
Yes, you can bring CIK phone box to anywhere as long as you are connected to internet and the local internet provider not blocking the port, it should be working normally.
19. Will I be notified by CIK once my LD minutes excess?
We do not notice if your long distance minute is over the long distance minutes in your long distance package, you might check the total long distance usage from www.ciktel.com My CIK account. For minutes over than what is included in your long distance package, it will be billed at the rate per minute. To check the long distance rate, please click here.
20. Does CIK phone support all Jacks on the wall?
CIK phone box only supports one port. If you want to use more phones in different rooms, you might use cordless phone. If you want to connect CIK phone box to one of wall jacks to make all phone jacks have signal, please make sure you consult our tech support before doing this as there are some limitation exists.
21. How to keep my numbers ?
According to CRTC regulations, all Canadian telephone numbers can freely switch between different local telephone companies. This is the local number of convertibility. So any customer has the right to put their phone numbers to other companies, which means you can keep the original number to the CIK Telecom. CIK Telecom is a CRTC registered local and long distance telephone company that provides local and long distance service licensees, customers can remain within the scope of the corporate network to any phone number.
If I want to keep the number to the CIK companies need to provide any documents?
1) I have reservations about the number of customers signing a power of attorney(LOA)
2) Customer's phone number, name and address of the phone company's latest phone bill should be home on the current. Phone number on the phone bill, name and address must be a power of attorney and client retention numbers are consistent on the LOA. you can fax or email the forms to one of the following CIK fax numbers or email address:
| Choose a City: | Fax: | Porting Email |
| --- | --- | --- |
| | 1 (416) 848-1521 | porting.cik@ciktel.com |
During CIK strongly recommended not to retain existing telephone number to call the company to cancel service. If the customer cancels the original service, CIK will not be able to keep your number, according to the CRTC regulations, CIK can not handle the phone number has been canceled or is canceled state phone number.
If you are using Bell DSL network, the number of reservations before you come, you need to call Bell given Bell DRY LOOP, in order to ensure that your network will not be interrupted after the completion of reserved numbers.
No reservations after completion of your old telephone company bill should automatically stop charging, but if the customer and the original signed term or other agreements have, there may be different. We recommend that you keep the number completed, the original call the telephone company to stop billing, if necessary, we can provide the appropriate Email to be determined.
CIK numbers to keep the company how long?
Usually, we need 2-4 weeks to complete, if the customer provides the information is incorrect, the time may be extended or denied.
Before numbers keep coming, CIK box can only call out, show your original number, can not answer the phone, but your old number to continue working.
After the numbers keep coming, CIK box will work properly, you can call out and receive calls.
22. How to Install My Phone box
23. Caller Name/ID Display
This feature enables the person receiving the call to see incoming call numbers before picking up the telephone. However, if the caller has blocked their ID then the number will either show as a private name, no number, or 466666667.
To use this feature, customer's telephone must have the caller ID display feature.
24. Call Transfer
Call transfer allow you to direct a call to anywhere you want in Canada.
How To Transfer Calls:
Press the flash button on your phone
Press the * button on your phone
Press the 1 key, and the number you want to transfer to
Press the # button
25. Call Waiting
Call Waiting allows you to accept an incoming call while you're already on a phone call. It will place the first call on hold while you answer the second call. While on the phone, a beep tone alerts you of an incoming call. If available, the new number also displays on your Caller ID device. If you want to take the call, press the flash button or switch hook button to answer the second incoming call.
26. Call Forwarding
With Call Forwarding, you can forward your call to anywhere in Canada:
Press 72*+1+phone number+#, you can forward all incoming calls to one number. (Press 73* to cancel).
Press 74*+1+phone number+#, you can forward the calls to one number if the line is busy. (Press 75* to cancel).
Press 76*+1+phone number+#, you can forward the calls to one number if the call is not picked up. (Press 77* to cancel).
27. Call ID Blocking
Caller ID Blocking allows you to block your own number for any outbound calls.
You can activate Caller ID Blocking any time you make an outgoing call. Just press 67*+1+the number you want to call.
28. Voice Mails
The Voice Mail function needs to be activated before using.
How To Check Voice Mail: You can dial 98* from your phone or dial one of the local access numbers below from any phone when in that area. After you dial the access number, you will be asked to enter your phone number and password, and then you can choose listen to new or voice mail, change password, record your greeting, etc.
Voice mail access numbers:
| | |
| --- | --- |
| Toronto: | 647-723-1104 |
| Montreal: | 514-312-8894 |
| Vancover: | CIK Home Phone Service FAQ's Support |
| Get home phone service related faq's to clear your queries. | home phone service support, hp service faq, phone service questions |
| Calgary: | 403-3559269 |
| Hamilton: | 9054810059 |
| Kitchener & Waterloo: | 5199572074 |
| London: | 5194886584 |
| Quebec City: | 4189071085 |
| Winnipeg: | 2042722504 |
| Halifax: | 9024822410 |
| Edmonton: | 7806283590 |
29. Caller Black List
This feature allows you to block unwanted calls. You can enter any phone number on a black list. Any call from a number on the list, will result in the call not being connected.
30. Anonymous Call Rejection
This feature allows you to block those incoming calls without showing caller number to prevent some malicious calls.
Activation required! Please contact support@ciktel.com to activate this featur
Warning: Using this feature you would not be able to receive any calls that has no caller ID displayed.
31. Do Not Disturb
When this feature is enabled, all incoming calls will be rejected.
Operation:
to activate: *84#
to Deactivate: *85#
Warning: Using this feature you will not be able to receive any calls.
32. Hot Line
When this feature is set, if you pick up the phone and don't dial any number within 10 seconds the call will be connected to the hotline number set.
Activation required! Please contact support@ciktel.com to set the hotline number.
Warning: Using this feature might cause you are not able to dial out.
33. Why phone has noise and disturbance, or some electric noise?
It's cause by following issues
1.Electromagnetic inference or power flow, please disconnect the power for the phone adaptor (at least 20 mins), if still the same issue after connect the power, please plug the adaptor in different power strip or wall socket.
2.Phone set issue especially for cordless phone. Please check if the battery is ok, reboot your cordless phone(unplug the power for the phone base for few mins); try different phone set.
34. Can I use my phone all over the house?
If you had VOIP service before, and same internet provide, just connect our phone box the same way your previous phone box was connected before.
If you have no other DSL internet or Phone service, you can connect the Phone Adaptor Phone 1 port to the phone jack on the wall, our phone in different phone jack.
If you are not sure of the wiring in your home, just connect your phone set to wall jack first.
1.If there is no tone, you can Connect your Phone Adaptor to this wall jack, phone sets in other wall jacks, it should work. If it does not work, It means inside wiring was changed, please contact termor (Not free)
2.If there is noise or dial tone, it means there is electric flow(Generally it's DSL network, or the previous phone or internet service is still active), CIK is not able to offer whole house phone. Need tech rewire(Not free)
3.Please try cordless phone, just connect the base to the phone adaptor.
35. Why the Call Waiting/Call Display is not working?
Call Waiting: Linksys Phone Adaptor sometimes has such problem. It is caused by the preset Hook Flash time, Pulse. Please power-cycle your phone box.
Call Display: Only shows "Incoming" or nothing, please press *65, then power cycle the phone box.
36. How to use ANI
Please dial the access number, after the operator tells the balance, dial the number. North American number: 1+Number
Others: 011+ Country Code+ number (ex. China 01186+)
37. How to connect my Fax machine, Answer machine, Alarm or Pos Machine?
Please connect the device directly to the phone adaptor. If you have other phones, you can connect that to the EXT or FXS port on your Fax Machine (or other devices). You can also buy a phone splitter to distribute the phone jack.
38. Why outgoing call is fine but no incoming? Or only one-way voice?
Mostly the phone adaptor is connected behind the router, some router NAT setting affects the VOIP adaptor. Please try to connect the phone adaptor WAN port directly to the Modem, LAN port to router. If you want to keep the connection, please call CIK tech support.
39. Why the other side cannot hear me clear, but I can hear them well?
VOIP signal is transmitted bidirectionally, your upload speed affects their listening quality, and download speed affects your listening quality. Generate the download speed 10 times the upload speed, if you are downloading with P2P software, watching video, or uploading file, it will take much uploading speed and affect your phone service. Please suspend or limit it. (In some P2P setting, you can limit the download or upload speed. Limiting the upload speed will improve the phone service and not affect your downloading speed)
40. Why the long distance call has the problem?
VOIP long distance service depends on the international route and foreign country ingress server, sometimes the line is busy or weak, you can try again. If it can not work after few attempts, Please call CIK support so we can adjust the route.
41. Why I can not check my message?
If you use your own answer machine, please connect it properly to the phone adpotar.
If you are using CIK Voice Mail service, please check the Voice Mail User Guide.
Three methods to check the voice mail
1.Press 98* on your phone, put in the password ending with #
2.Check the Wav. File in your email account.
3.Call access number, then follow the prompt.
Voice Mail clashes with some features like Call Forwarding, two features cannot be active together.
42. Why I am told to add 1 when I call local number?
For CIK phone, +1 does not mean Long distance. It's local free calling in Canada (except 867 area)
43. After I port number to CIK, why I can not receive calls from previous provider user?
Your previous provider has not removed your number from their database. CIK cannot solve this problem, please let their customer report the issue, it will be fine after they remove the number from their database.
44. Why my cable internet is not working when I connect Modem-Phone Adaptor-Router?
For the cable internet, server end will memorize the device behind the modem. Please power off the modem for at least 5 min, so the server can release the memory of MAC or IP information. If you change the connection behind modem, please power off the modem for at least 5 mins.
45. Need dial the regular numbers according to the areas
811:
AB 18002423447
BC 18004746886
ON 18004002255
QC 18006639228
311:
4163922489 (Toronto)
6135802400 (Ottawa)
905-825-6000 (Burlington)
211:
4163923777 or 4163924575 (Toronto)
6132414636 (Ottawa)
46. How to check my VFAX?
User ID: Your phone number(ex: 14168888888)
Password: 1234567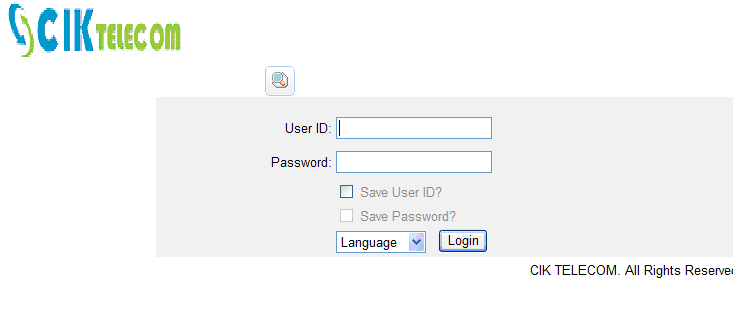 You can check the fax when you login.
47. Why my doorbell does not work after I install CIK phone?
Two kinds of bell:
Controlled by the wire, the signal is transmitted from downstairs telephone room to your inside phone. After the phone ported in CIK, the phone adaptor is not connected to the telephone room directly. The previous carrier may have cut the wire in the telephone room, please contact the superintendent, CIK is not allowed to access the telephone.
Controlled by the number, not wire. Ringing downstairs, the management will call your registered phone number (Like call forwarding, usually you can also use your cell phone to control the doorbell). Please talk with Superintendent to register the number.
48. Why my phone is not working, internet is fine?
If REG light is off, please dial ***101#(or dial ***100#,then hang up and dial ***101#),hang up when you hear the busy tone. When REG light comes up the phone works.
If REG light is on, please confirm phone is connected to the phone 1 port properly, not phone 2.
If three light stable on (PWR, REG, LINK), No tone after picking up the phone, please confirm the phone is connected to the port 1 port properly, then make sure the Power Adaptor output 12V/1.5A.
49. Why my phone has noise and electric sound?
It's cause by following issues.
1.Electromagnetic inference or power flow, please disconnect the power for the phone adaptor (at least 20 mins), if still the same issue after connect the power, please plug the adaptor in different power strip or wall socket.
2.Phone set issue especially for cordless phone. Please check if the battery is ok, reboot your cordless phone(unplug the power for the phone base for few mins); try different phone set.