CIK Telecom Celebrates 20 Years of Excellence
09-15-2023
As the largest independent internet service provider in the Canadian telecommunications industry, we, CIK Telecom, are proud to announce our 20th anniversary. This milestone marks two decades of delivering cutting-edge services, fostering customer relationships, and positively contributing to diverse communities across Canada.
Founded in 2003, CIK Telecom embarked on a journey to transform the telecommunications landscape in Canada. We quickly rose to prominence from the humble beginnings by providing affordable, reliable, and high-speed internet solutions to homes and businesses. Our commitment to innovation paved the way for CIK's expansion, with an extensive range of services, including internet, home phone, and IPTV, and the latest innovation, SuperFibre internet.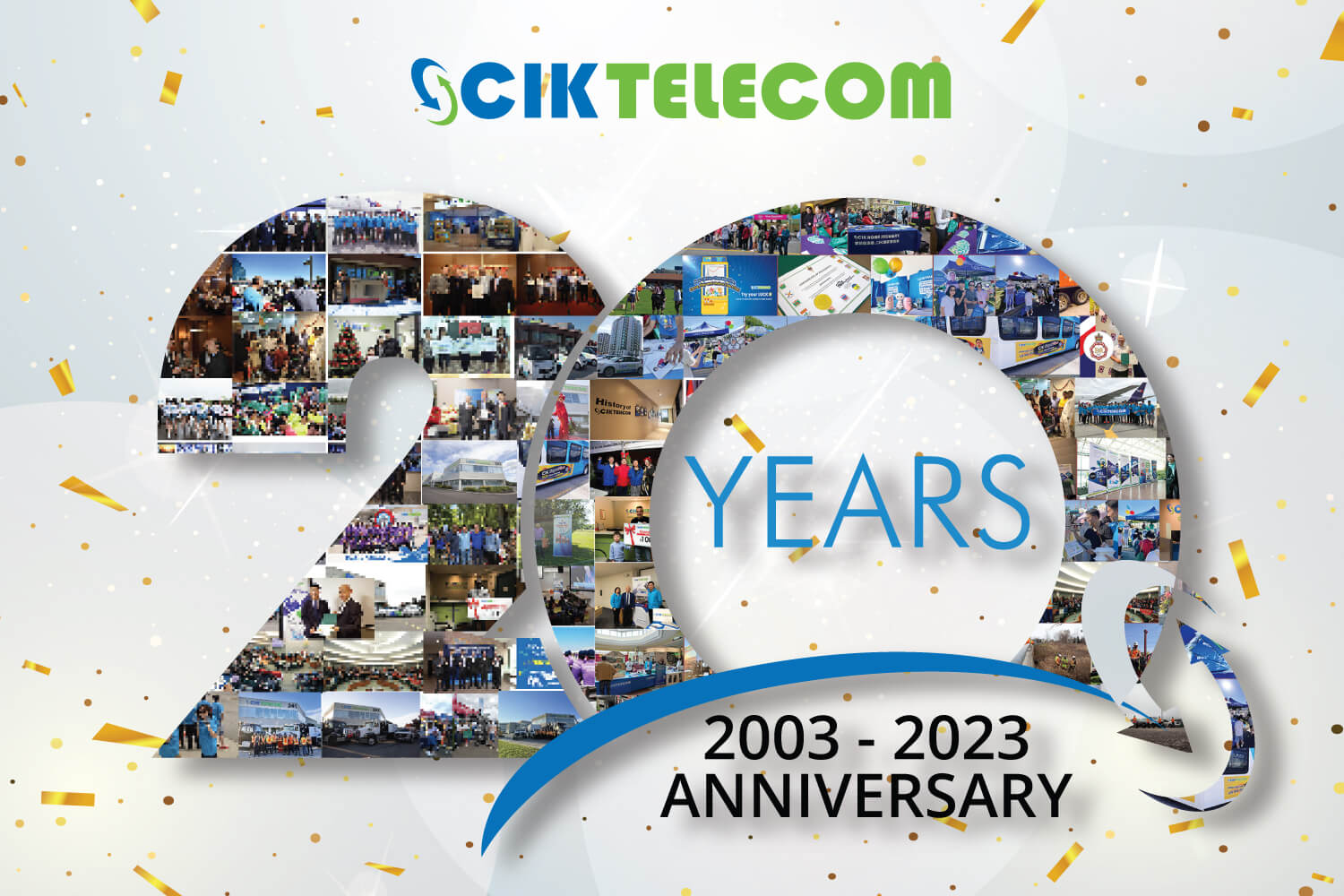 Customer Appreciation: The Heart of CIK
Over the years, we have prioritized customer satisfaction above all else. Our success story is incomplete without the unwavering support of thousands of customers who have chosen CIK as their trusted service provider. In celebration of the 20th anniversary, we are extending our gratitude to all our customers with exciting promotions, exclusive offers, and enhanced service features such as higher download and upload speeds. CIK would not have been able to grow this big without our customers.
Continued Commitment to Giving Back to the Community and the Future
Our journey has been about more than just business growth, it has been about creating a positive impact. From day one, we have been dedicated to giving back to the communities we serve. Through various initiatives, partnerships, and contributions, CIK has played an active role in supporting local causes, education, and digital inclusion programs.
"We are immensely proud to celebrate our 20th anniversary," said Jordan Deng, CEO at CIK Telecom. "This milestone is a testament to our team's dedication, the loyalty of our customers, and our commitment to making a positive difference in this difficult and expensive telecommunications landscape in Canada. As we reflect on our journey, we are excited to continue innovating, providing affordable services, improving customer experiences, and contributing to the communities that have embraced us. We know the road ahead of us is tough, especially now that we know that most independent ISPs were forced to sell to the big incumbents. We want
As we look towards the future, innovation remains at the forefront. To keep up with the evolving digital landscape, we plan to introduce even faster internet speeds, enhanced services, and new technologies with our own SuperFibre internet technology. As you might be aware we are building our own fibre network in Markham and Richmond Hill to be fully independent of the incumbent ISPs. Additionally, we will continue investing in initiatives that empower local communities, bridge the digital divide, and create a brighter future for all in Canada.
In the 20th year and beyond, we at CIK Telecom remain committed to our core values of integrity, customer-centricity, and community engagement. For more information about our community offerings, please visit https://www.ciktel.com/CommunitySupport