CIK Customer Support Centre at 282 Consumers Road Permanently Closed
2017-09-08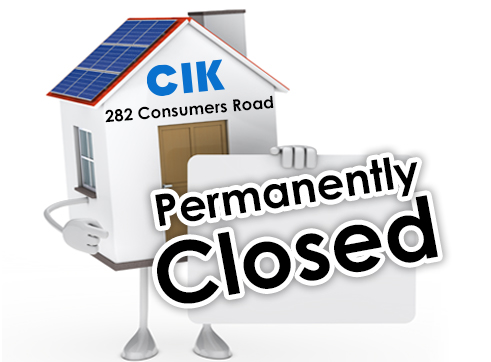 Our Toronto Customer Support Center, currently at 282 consumers Road is permanently closed, effective from September 11th,2017. From September 6 to 10, 282 Consumers Road will be open with minimal technical support only, and no customer care or sales support.
Effective from September 11th, 2017, technical support and customer services will be available 7 days a week from 9:30am to 6:00pm at 241 Whitehall Drive, Markham.
Effective from October 16th, 2017, CIK Markham store at First Markham Place, unit 155, 3255 HWY 7, will be open 7 days a week from 11am to 7:00pm and 241 Whitehall Drive will be back to regular working hours and open Monday to Friday only from 9:30am to 6:00pm.
For sales inquiries please call our 7x24 hotline 416-848-1517 or visit our Markham store after October 16th, 2017.