CIK Telecom 13th Anniversary, 13 Prizes Giveaway Daily
2016-09-01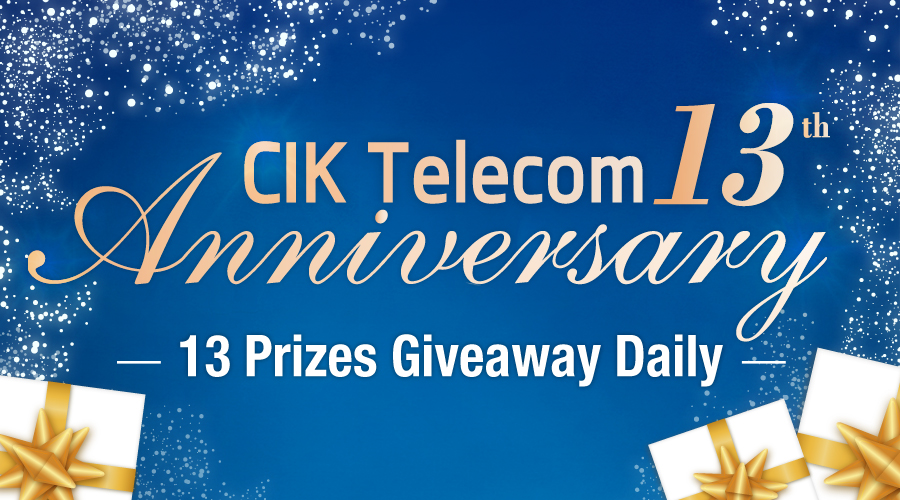 Gifts include:
1.) Hand band
A scientifically-grounded wristband which monitors heart rate, tracks steps and distance, displays clock and more.
2.) Weight scale
CIK Wireless Weight scale is a smart weight scale which can save your weight automatic every time when you weight yourself and it keeps track of your weight and provide your advice for the health.
3.) Air mouse
It can be used as a remote control for CIK TV box, a mouse use for computer, a controller for CIK Jia Jia Sport game.
4.) Cordless phone set
An excellent solution for home or office use. Features include: interference free digital technology, handset with 10 selectable ring tones and backlit LCD display, caller ID with information on the last 30 calls, handset speakerphone, expandable up to 5 handsets.
Event Terms :
• Between September 1st, 2016 to October 2nd, all CIK new customers will be entered CIK Telecom 13th anniversary lucky draw automatically.
• Draw will be held daily at CIK Telecom Toronto head Office, 284 Consumers road, Toronto, ON M2J1P8.
• Winners will be posted on CIK Telecom official website/Facebook/Twitter/WeChat account on daily basic.
• All prizes need to be redeem at CIK Telecom local support centre/stores.
• Prize valid up to 30 days from the date of post.
• Prize can be shipped to customers upon request; extra shipping fee may applied.
• Prize cannot be cashed.
Don't miss out!
CIK Telecom 13th Anniversary, 13 Prizes Giveaway Daily
2016-09-01
亲爱的用户,
由晚会表演嘉宾, 於孟非的档期原因,原定2016年10月2日晚上7点30分於大多伦多会展中心举办"携手CIK,麦向未来"晚会活动将延期举行。有关具体的延后日期我们将再另行个别通知,不便之处,尽请谅解。
相关事宜详情,请登录官方网站www.ciktel.com 查看; 或请拨打我们的服务电话: 416-8481517查询.
感谢
CIK市场部